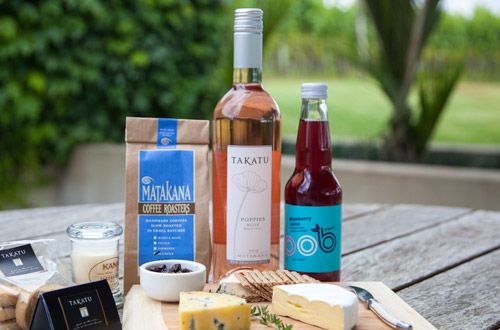 2015 TAKATU ROSE
Handpicked and fastidiously sorted Merlot and Cabernet Franc grapes, gently pressed, were fermented in a mixture of stainless tank and seasoned barrels to create this attractive and seriously styled rose. Showing lifted aromas of strawberry, peach, nectarine, and hints of Provencal herbs, the 2015 Takatu rose is bone dry yet carries natural fruit sweetness and a creamy texture through poised acidity on a long refreshing palate. Ideal as an aperitif, there is also ample substance to share and enjoy alongside savoury antipasto dishes, Mediterranean styled salads, or any variety of seafood.
Retail Price
$25 per bottle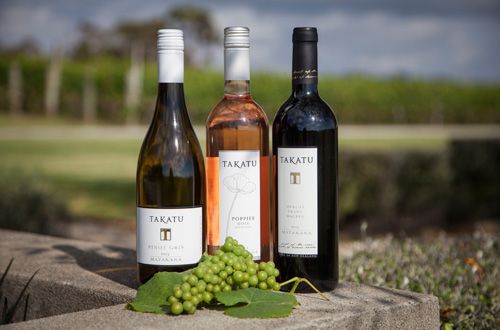 2013 TAKATU PINOT GRIS
Rich and weighty this dry wine has heady aromas of bergamot tea, almonds and limes. The palate is of fresh ripe pears and peaches, a hint of vanilla on a long, creamy, citrusy, mandarin finish. An excellent companion with food, especially seafood, crayfish, prawns, chicken, salads etc. Ready to drink now it will cellar well for up to 7 years.
Retail Price
$35 per bottle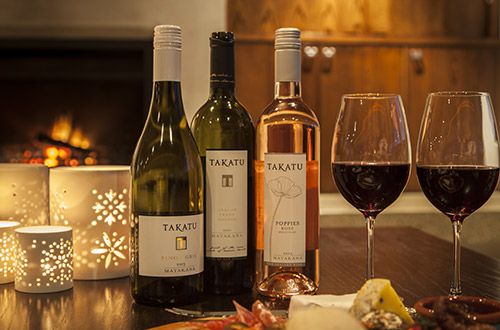 2010 TAKATU MERLOT, FRANC, MALBEC
The bouquet is deep and rich with sweet, ripe, dark, berry fruits and black plums. The palate is voluptuous with ripe fruit flavours, spicy rich chocolate and abundant complexity. Silky smooth tannins lead onto a long lingering finish. This wine goes well with food, the ideal partner for meaningful celebrations. Ready to drink now but will continue to evolve 10 years or more from harvest.
Retail Price
$45 per bottle
ONLINE ORDERING TERMS & CONDITIONS
This order form is for New Zealand customers only.
It is illegal for Takatu Vineyard to sell wine to minors under 18 years of age.
It is illegal for minors under 18 years of age to purchase wine from Takatu Vineyard.
It is illegal to falsify personal details in order to buy wine if you are under the age of 18.
When the order is received you will be sent a confirmation of your order as soon as is possible.
Delivery can be expected within four working days of receipt of the order.
All prices are inclusive of New Zealand GST.
Online payments can be made by VISA or MasterCard.

Secure payments are made through DPS Payment Express